Spend this holiday season staying in & eating delicious recipes with ACTIFRY
Our mission is to give you the opportunity through our products and services to enjoy tasty, diversified and healthy cooking and perform useful daily activities for you, your loved ones and your friends #stayathome #eathealthy #familytime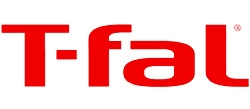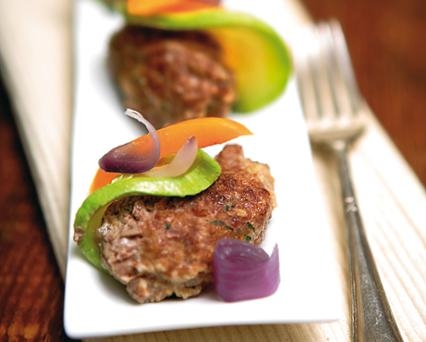 Fried Meatballs
Main Course
Ingredients
600g minced meat (veal & pork combined: 60% & 40% respectively)
1 teaspoon ground cumin
2 slices of bread
100g "Kashkaval" (Bulgarian hard cheese)
4 or 5 sprigs parsley
1 egg
Plain flour
Preparation
Soak the bread in warm water, then press to remove all excess. Chop the parsley and whisk the egg. Add all these ingredients, together with the cumin spice, to the minced meat, then mix well.
Dice the "Kashkaval" then form small meatballs in the palm of your hand, place the cubes of cheese in the centre of each ball.
Make sure that the meatballs are properly closed to prevent the "Kashkaval" from oozing out during cooking. Roll the balls in the flour then deep-fry them according to the programme selected.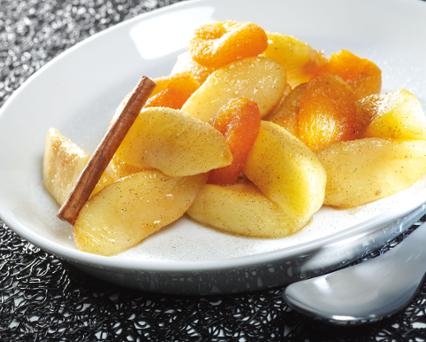 Cinnamon Apples
Dessert
Ingredients
4 Golden Delicious apples
85 g dried apricots, cut into small pieces
1/2 teaspoon ground cinnamon, or to taste, 2 ActiFry spoons sugar
1 ActiFry spoon sunflower oil
Preparation
Peel the apples and cut into quarters, removing the core. Cut each quarter in two, to get a total of 8 wedges per apple.
Put the apple wedges in a large bowl and mix with the oil until evenly coated. Put the apple wedges in the ActiFry and cook for 12 to 15 minutes.
Add the apricots and cook for 3 more minutes, or until the apples are tender.
During this time, mix the sugar and cinnamon in a bowl. Serve the cooked apple warm, decorated with cinnamon sugar.
You may serve this vanilla ice cream, double cream or Greek-style yoghurt.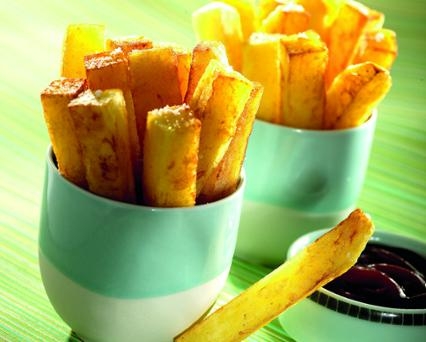 Real Crispy Chips
Side Dish
Ingredients
875 g baking potatoes such as Russet
1 ActiFry spoon vegetable oil, such as rapeseed, corn or sunflower
1/2 tsp salt (approx.)
Preparation
Peel the potatoes and cut into chips of equal thickness, no more than 2/3 inch (13 mm) in square thickness recommended. Rinse fries thoroughly in water; drain well. Use a clean tea towel to thoroughly dry the chips.
Place the chips in the ActiFry Pan. Drizzle evenly with the oil. Cook for 30 to 40 minutes or until the chips are crisp, golden and cooked through, (the cooking time will vary depending on the thickness of the chips and the variety of potato used).
Season with salt (adjust to taste). For the crispiest chips, it is essential to thoroughly dry the potatoes before cooking.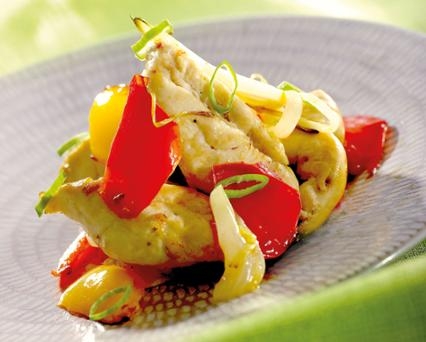 Turkey with Three Peppers
Main Course
Ingredients
1 each red, green and yellow pepper, thinly sliced
2 ActiFry spoons olive oil
2 cloves garlic, minced
1 red onion, thinly sliced
4 ActiFry spoons port or cooking sherry
1/2 ActiFry spoon cider vinegar
1 teaspoon cornflour
500 g boneless, skinless turkey breast, sliced into thin strips
Salt and pepper (optional)
Preparation
Place the peppers in the ActiFry pan. Drizzle evenly with the oil. Cook for 5 minutes.
Add the garlic and onion to the ActiFry pan. Cook for 5 minutes.
Whisk the port with the vinegar and cornflour until combined.
Add the turkey breast strips and the port mixture to the ActiFry pan.
Cook for 10 to 15 minutes or until the turkey is tender and cooked through. Season to taste with salt and pepper (if using).