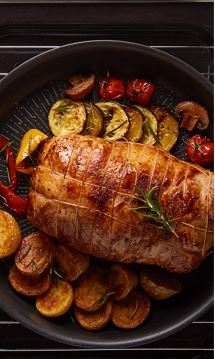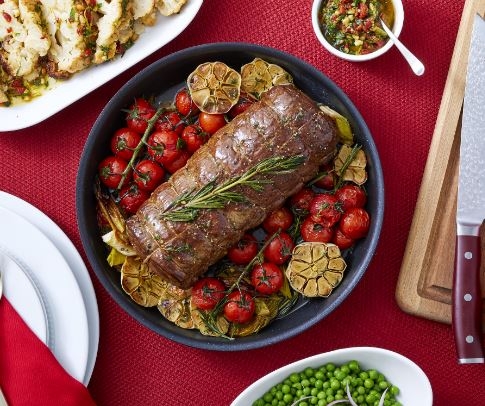 Roast Pork Loin
| | |
| --- | --- |
| Number of people | 4 |
| Cost | Affordable |
| Difficulty | Easy |
| Preparation Time | 10 min |
| Cooking Time | 25 min |
Ingredients
1 pork tenderloin, about 500 g
2 cloves garlic, 1 onion peeled and chopped
1 sprig of thyme
1 bay leaf
30 ml/2 tbsp of olive oil
salt, pepper
1 to 2 tablespoons seasoning blend/rub of your choice
Preparation
Heat oven to 425 degrees F. Pat pork dry with paper towels. Then generously season with salt and pepper.
Heat oliver oil in your ingenio pan over medium heat. Add the pork tenderloins and cook, turning, until browned all over (roughly 2 minutes per side).. Scatter the seasoning blend or herbs over the pork.
Roast 10 -15 minutes or until an internal thermometer inserted into the thickest part registers between 145 and 150 degrees F.