Asian Orange Sesame Cauliflower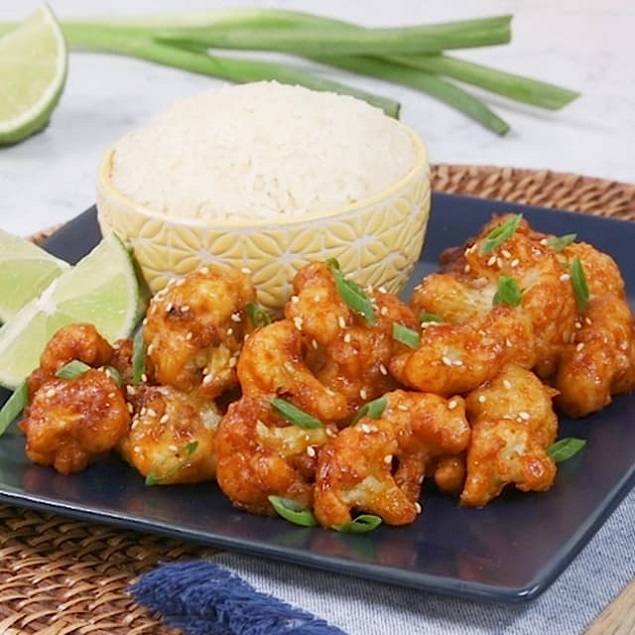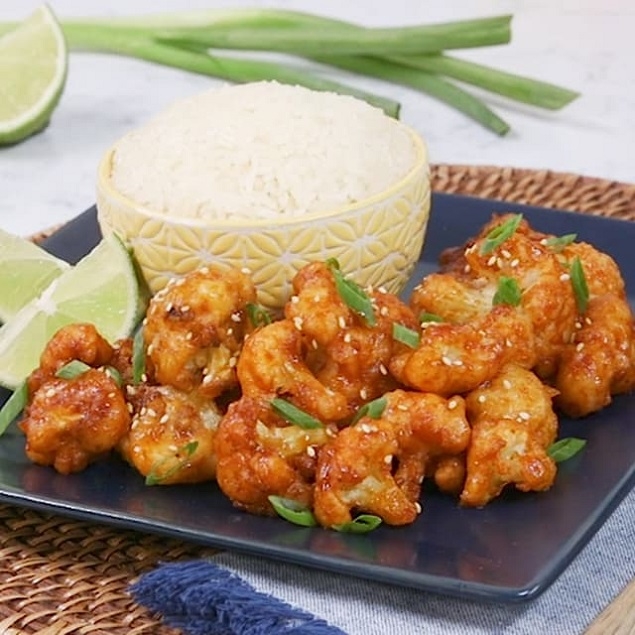 Asian Orange Sesame Cauliflower
| | |
| --- | --- |
| Number of people | 4 |
| Cost | Affordable |
| Difficulty | Easy |
| Preparation Time | 45 min |
| Cooking Time | 25 min |
Ingredients
1 small cauliflower, cut into equal-sized florets
2/3 cup water
1/3 cup each: cornstarch and all purpose flour
1/2 tsp each: salt and pepper
1 cup panko breadcrumbs (approx.)
Vegetable oil cooking spray
1/4 cup fresh orange juice
2 tbsp each: soy sauce, rice vinegar, ketchup and brown sugar
1 tbsp toasted sesame oil
2 cloves garlic, grated
1 tsp each: cornstarch and water
Sliced green onion and toasted sesame seeds (to garnish)
Preparation
Blanch cauliflower in boiling, salted water for 3 minutes; rinse under cold water and pat dry.
Whisk water, cornstarch, flour, salt and pepper until smooth in a large bowl. Add cauliflower and stir until coated. Place panko in a separate bowl. Add cauliflower in batches and toss until coated.
Transfer breaded florets to a parchment paper-lined baking sheet. Chill for 30 minutes. Coat evenly with cooking spray.
Remove the paddle from ActiFry pan. Add cauliflower to pan in a single layer, leaving a small gap near the handle. Cook for 11 minutes. Return paddle to pan. Cook for 11 minutes or until golden. [For Genius models, leave paddle in place and cook on Mode 3 for 22 minutes.]
Meanwhile, whisk orange juice with soy sauce, vinegar, ketchup, brown sugar, sesame oil and garlic in a small saucepan set over medium heat. Stir cornstarch and water until smooth. Stir into orange juice mixture. Cook, stirring, for 3 to 4 minute or until sauce is glossy and thickened.
Toss cauliflower with sauce and garnish with green onion and sesame seeds.
Tips
Serve with rice and vegetables to make a meatless meal.

Spritzing Smarts - Spraying battered or breaded foods with a light coat of oil is useful during preparation to achieve crispiness without disturbing the coating. Look for cooking sprays that are labeled "propellant free", which are safer to spray directly on foods. Another cost-effective option is to purchase a pump-style oil sprayer and fill it with your favourite cooking oil.