One Pan Greek Chicken and Rice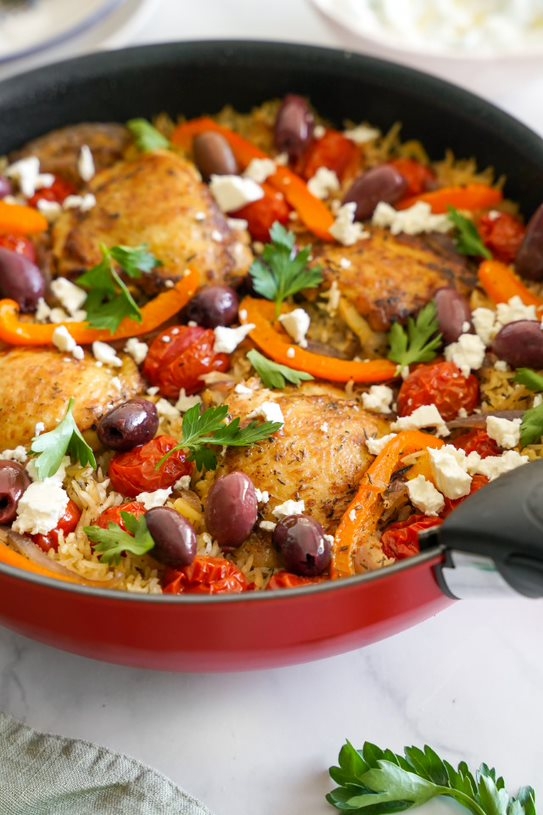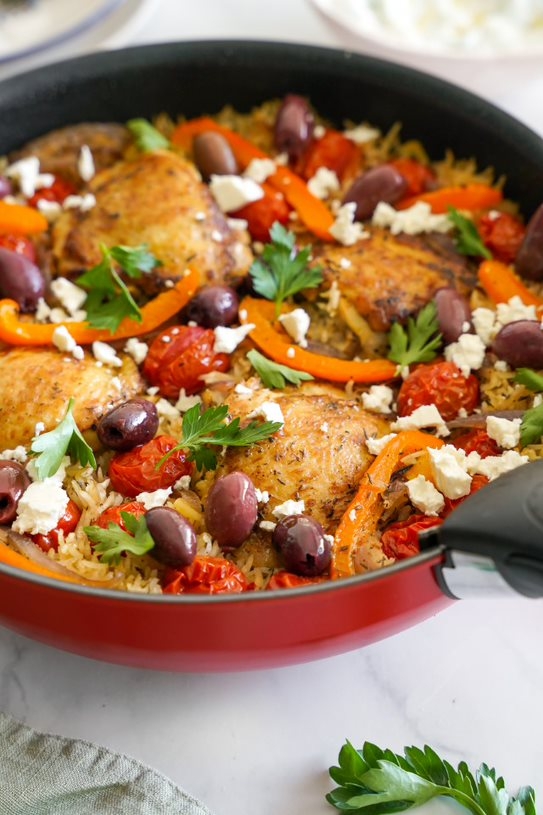 One Pan Greek Chicken and Rice
| | |
| --- | --- |
| Number of people | 4 |
| Difficulty | Easy |
| Preparation Time | 10 min |
| Cooking Time | 30-40 min |
Ingredients
Greek Chicken & Rice:
4 chicken thighs
1 teaspoon dried oregano
1 teaspoon dried thyme
1 teaspoon garlic powder
1 teaspoon onion powder
Salt and pepper, to taste
1/4 cup fresh lemon juice
1/4 cup olive oil
1 red onion, sliced
1 orange bell pepper, diced
1 cup uncooked long-grain white rice
2 cups chicken broth
1 cup cherry tomatoes
1/4 cup pitted Kalamata olives
1/4 cup crumbled feta cheese
2 tablespoon chopped fresh parsley
Tzatziki sauce, for serving

Tzatziki:
1 cup plain Greek yogurt
1 medium cucumber, grated
2 cloves garlic, minced
1 tablespoon fresh lemon juice
Salt and pepper, to taste
1 tablespoon olive oil (optional)
Preparation
Preheat oven to 375°F (190°C).
In a large bowl, combine the dried oregano, dried thyme, garlic powder, onion powder, salt, pepper, lemon juice, and olive oil. Add the chicken thighs to the bowl and toss to coat. Allow the chicken to marinate for at least 30 minutes.
Heat a large Ingenio pan over medium-high heat. Once hot, add the chicken and cook for 3-4 minutes per side, or until golden brown. Remove the chicken from the pan and set aside.
In the same pan, add the diced red onion and orange bell pepper. Sauté for 3-4 minutes, or until the vegetables begin to soften.
Add the rice to the skillet and stir to coat in the vegetable mixture. Pour in the chicken broth and stir to combine.
Nestle the chicken thighs on top of the rice mixture, along with the cherry tomatoes. Cover the pan with aluminum foil and transfer to the oven.
Bake for 25-30 minutes, or until the rice is tender and the chicken is cooked through.
Meanwhile, make the Tzatziki by mixing all the ingredients together in a small bowl.
Remove the skillet from the oven and top with the Kalamata olives, crumbled feta cheese, and chopped parsley.
Serve with tzatziki on the side and enjoy!